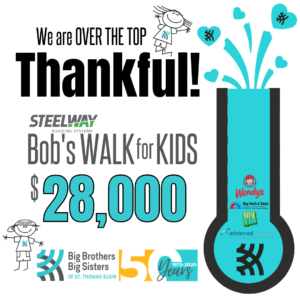 We are so excited to announce that we have exceeded our target.  We have raised over $28,000 for Big Brothers Big Sisters of St. Thomas-Elgin with our virtual walkathon.  We have so many people and businesses to thank for the success of our 50th Anniversary Steelway Bob's Walk for Kids.

Steelway Building Systems, who has been a strong supporter of our agency, committed to being our Presenting Sponsor.  Their support of this event started us off strong and put us well on our way to meeting our initial goal of $10,000.  We are overwhelmed by their continued support of our agency.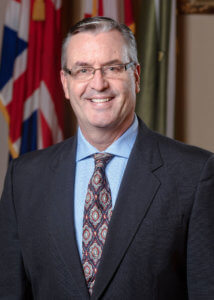 Jeff Kohler, our Honorary Chairman is a BIG reason for our success and we are so thankful.  Jeff was a dear friend of Bob McCaig, and it was that friendship and their shared belief in the importance of mentoring programs that helped fuel his efforts.  Jeff knocked on many doors in our community and worked very hard to elevate our event throughout Elgin.  The success we have achieved through several community minded contributions are directly a result of Jeff's commitment to our agency while honouring Bob's legacy.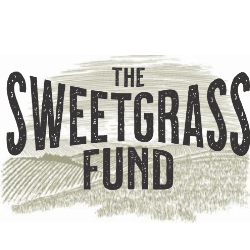 Thank you to the Sweetgrass Fund who matched our fundraising efforts with a $10,000 donation.  The Sweetgrass Fund is Bob McCaig's legacy fund through the Elgin-St.Thomas Community Foundation.  As we celebrated 50 years of mentoring, we brought back the walkathon which allowed us to honour Bob, a founding board member.  Having the Sweetgrass Fund match our efforts of raising $10,000 will directly support our agencies recruitment initiatives to serve more at-risk children and youth in St. Thomas and Elgin County.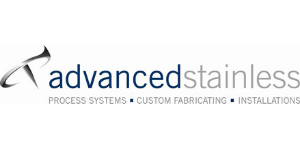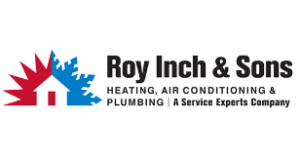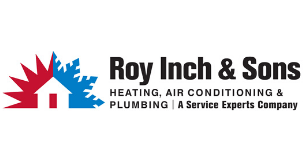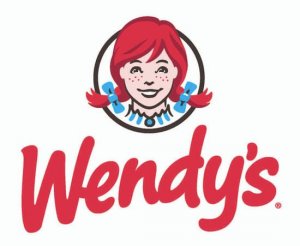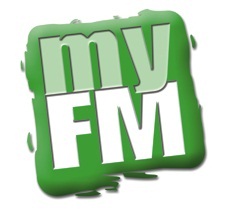 Our Supporting Sponsors have been behind us all year long as we have navigated new ways to make our fundraisers into viable opportunities to raise much need dollars to enable life-changing mentoring relationships for our kids.  We had to cancel a few of our fundraisers this year but we have been very fortunate to be able to find new virtual events like the walkathon to replace those dollars and continue our important work.  We look forward to 2021 and meeting the challenges head on with the support of caring community businesses.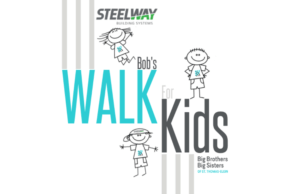 The Steelway Bob's Walk for Kids has surpassed all our expectations.  As we celebrated our 50th Anniversary, it was great to come together as a community separately but together in spirit.  Our event may have been virtual but we feel the embrace of our community.  We are so grateful to all the individuals and businesses that have helped us reach far above our target.  Your generous support of our event will translate into the possibility of brighter futures for our community kids.
Power and potential is only sparked when a caring community reaches out to our most vulnerable children.
On behalf of our kids, Thank you for supporting our cause.