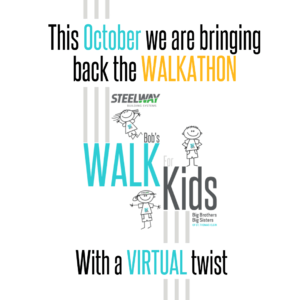 This October, come celebrate 50 Years of mentoring in Elgin County by joining us on the Steelway – Bob's Walk for Kids.
We are walking 10kms or doing 150 minutes of activity to recreate a popular annual tradition for our office back in the 1970's and 80's – the Big Brother Walkathon. You have the whole month to get your walking or exercising in or you can do it all in one day on Saturday, October 17th our Walk for Kids Day. It's all virtual. You do it when you can, do as much or little at a time as you can, and where you want (practicing safe social distancing of course!). You just need to get your 10km or 150 minutes done before October 31st.
To register go to our website www.bbbselgin.org and follow the link to the sign up form. It doesn't cost anything to register but you can set up a fundraising page and collect pledges to support our agency and every dollar you raise will be matched by the Sweetgrass Fund up to $10,000. So every $10 you raise is really $20 for important mentoring programs for our kids!! There is swag for reaching certain fundraising levels too. If you collect $100 in pledges you will get a commemorative 50th Anniversary T-shirt. If you collect $250 in pledges you will get a commemorative 50th Anniversary Hoodie. As a bonus – just like the original walkathon, there will be prizes for top fundraisers too!! Prizes will be awarded to the top adult fundraiser, the top child fundraiser, and one for the top fundraising team!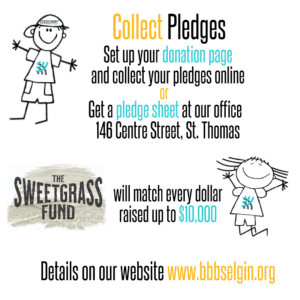 We really want you to join us in this celebration. The fundraising is important but it is more important to get outside and celebrate together – the best way we can in this challenging time. Be sure to sign up as an individual, as a family, or as a team of supporters.
Do it today at www.bbbselgin.org! Let's celebrate 50 years together!!