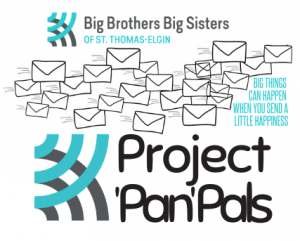 ELGIN COUNTY – March 27, 2020 –  As we continue to follow the unprecedented actions taken to protect our communities against COVID-19, now is the time for us to come together to support each other any way we can. That's why we started Pandemic PenPals or "Project PanPals: Connecting Generations During Social Distancing."
At Big Brothers Big Sisters of St. Thomas Elgin, we want to bring smiles to residents in long-term care and retirement homes who are unable to have visitors at this time. Visitor restrictions are an important step to prevent the spread of this disease but can be an incredibly lonely time for seniors. Therefore, we asked our Littles, their mentors, and families, and our community to write letters to the residents to let them know we are thinking about them.
We have had an overwhelming response from several senior's homes in Elgin County. They are excited to receive letters and will, in turn, write letters back to our participants.
If you are interested in participating, please read our Guidelines below:
WHO CAN WRITE A LETTER:
Any mentee (Little) and/or their mentor or family members. BBBS staff members and the general public.
WHAT TO PUT IN A LETTER:
It is up to you how much personal information you want to include or not include in your letter. But here are some ideas of what you could write about:
Describe a little about yourself; your likes, dislikes, favourite subjects, activities
Tell them about your mentor and what sort of things you do with your mentor and how it has changed your life.
Talk about how you are passing the days while not in school
Ask about them – what do they like to do, do they have grandchildren, etc.
Share an encouraging message, a poem or quote
Ask them who their heroes or mentors were when they were growing up (tell them about yours) and
What life advice would they pass along to kids today?
HOW TO ADDRESS THE LETTER:
Because we don't know what resident will receive the letter, start the letter with Dear Friend, until you get a note back with their name. You can send your letter electronically to us to deliver or drop off at our office at 146 Centre Street or the PanPal mailbox at 19 Brant Ave., St Thomas
Don't forget to let us know who you are.  Please provide a return email address or mailing address if you would like to get a response to your letter.  We will keep that information private and Big Brothers Big Sisters will make sure we filter your mail in both directions to keep everyone safe.
FOR MORE DETAILS AND INSTRUCTIONS, CONTACT:
Carolyn Johnson, Marketing & Fund Development Coordinator
Big Brothers Big Sisters of St. Thomas Elgin
carolyn.johnsonc@bigbrothersbigsisters.ca