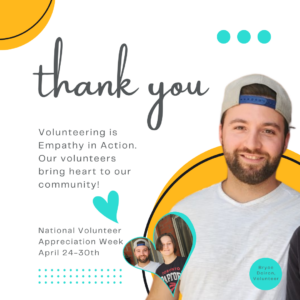 April 24-30th is National Volunteer Appreciation Week.
We are so thankful to all the mentors, board members, and friends of the agency that made it possible to serve over 240 kids in our community in 2021.
Volunteerism is vital to our agency and we appreciate each and everyone of you who make igniting power and potential, in the children and youth of Elgin County, a priority!
We know you are all a very BIG deal!
If you would like to join us, visit our website www.bbbselgin.org/volunteer to get started or call Carly at 519-633-3830 ext 202